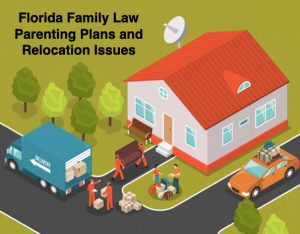 Family law cases are constantly evolving and changing, because like as children grow and change, their needs and the needs of the parents also change. In some instances, parents find that they have to move to a different state for a new job, better opportunities, or for a new marriage. When parents have divorced or have a Parenting Plan from a paternity case, where they share a minor child, when these changes occur, it's important that you are aware of the limitations and procedures that you need to follow in order to make sure that you are following the Court's previous orders in your case to be successful in attempting to move.
In some cases, co-parents have good communication and can understand how a different location can be better for the family as a whole. For example, if the Mother and Father have had a Parenting Plan for their child in Jacksonville, Florida, where they share time with their child equally, and the Mother is offered a job in Knoxville, Tennessee, where she can make double when she is making now, and the area that she is moving to offers a better educational system for their child, she can file to relocate to Knoxville with the minor child. If she and the Father can come to an agreement on how they will continue to co-parent their child, and share time and responsibility, even in light of the child moving to Knoxville, then the parties may be able to come to an agreement that can be approved by the assigned Judge on their case.
Obviously, in a situation like this, when one parent has the opportunity to be able to better provide for their child, and also the new location would be better for the minor child, then it makes senses that the parties can agree and work out issues like timesharing, holidays, and child support. It is always better for parents and children when a family can work together.