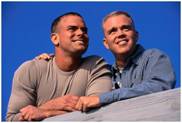 The 5th Texas Court of Appeal in Dallas has just handed down a ruling regarding a gay couple that wished to obtain a Texas divorce: forget about it.
The appeals court said that a Dallas district court judge was in error when she ruled that she had the authority to hear the divorce case of two Dallas men who married in 2006 in Massachusetts. The court said that Texas courts lack the legal authority to grant divorces to same-sex couples because of the state's constitutional ban on same-sex marriages.
The Texas constitution states that a valid marriage is a union between one man and one woman, and only when that union exists can a divorce be granted. Even though the same-sex marriage ban has existed under state law, Texas voters passed a constitutional amendment banning same-sex marriage in 2005 by a three to one margin.
Dallas district court judge Trena Callahan had originally ruled that Texas could not limit marriage to a man and a woman, but the appeals court overruled her, saying that the limitations were constitutional. They sent the case back to Callahan, who must vacate her order.
Attorneys for the gay couple said they were considering appealing the case to the Texas Supreme Court, but no decision has been made yet.