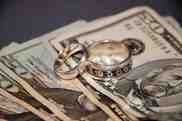 A recent poll conducted by the American Academy of Matrimonial Lawyers (AAML) reveals that prenuptial agreements have increased in popularity over the past five years, especially among women.
Approximately 73 percent of matrimonial lawyers polled said they have seen an increase in requests for prenuptial agreements; 52 percent said they have experienced an increase in women making the request.
The poll also found that 36 percent of attorneys surveyed said they had seen an increase in the inclusion of pensions and retirement benefits in prenuptial agreements, signaling a shifting change in the importance of how these assets are viewed in light of the current economy.
As noted by AAML president Marlene Eskind Moses, prenups are becoming more recognized as a good way to protect assets, especially for those marrying for the second, third or fourth time and for those marrying later in life who have accrued significant assets.
In addition, she noted, some of the new prenup activity can be attributed to the bad economy, which has made people more acutely aware of their financial condition and what could happen to it in the event of a divorce. Women, especially, want the additional security that prenups provide to ensure they do not become impoverished as the result of a divorce.