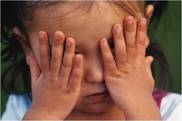 The effort of one parent to turn a child against the other parent has become known as "Parental Alienation Syndrome (PAS)", a disorder first identified by psychiatrist Dr. Richard A Gardner in the 1980s in association with the growth in child custody litigation.
Dr. Gardner, who was a clinical professor in Columbia University's Division of Child Psychiatry, was a consistent advocate for fathers in custody battles. Later research done into PAS has shown that a child's alienation from one parent is usually the result of systemic dysfunction within a family that begins well before divorce.
Whether PAS is a true medical disorder is still being debated, but any divorce lawyer will tell you that parental alienation does exist, and it is an unfortunate circumstance for both children and the target parent. So how can you tell if your child is at risk for parental alienation? Here are some widely recognized risk factors:
• One parent threatens to abduct the children.
• A parent withholds or interferes with visitation.
• A parent falsely accuses the other parent of child abuse.
• One parent is routinely late in dropping off or returning the children.
• One parent has a diagnosed mental disorder.
• A child's relationship with one parent suddenly changes dramatically – child refuses to visit, says they "hate" the parent, etc.
If you feel you have been the victim of parental alienation, contact our Jacksonville family law firm.