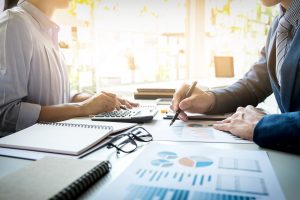 When you file for divorce, paternity, or are involved in a dispute regarding your children with your former partner in the State of Florida, there are requirements that both parties exchange financial information.  Under the Florida Family Rules of Procedure, specifically Rule 12.285, when a family law matter is filed in circuit court, then the parties have to turn over certain documents to the other side.  These include the following financial documents: three years of tax returns, three months of proof of income, three months (at least) of bank statements, retirement information, credit card statements, and the list goes on.  This is required so that both parties and the court have a clear picture of the financial assets and debts of each side, and that the needs of the spouses and children are met based on the income between the parties.  Without it, the court cannot do its job to ensure that the outstanding issues between the parties can be handled completely and that resolution can be final.
In many instances, clients, or the opposing party, does not want to turn over financial information.  This is especially true when parties are already divorced and have been living separately for years.  The requirement, however, remains the same.  Having an experienced Florida family law attorney to guide you through the necessary disclosures from your documents, and also ensuring that you receive the documents that you will need to prove your case is essential.  This is frequently a hot bed for issues that result in one party refusing to fully comply, and requires motions to be filed before the judge to decide not only when you should receive the information, but also if sanctions, like attorney's fees should be assigned to the non-compliant spouse.
Ensuring that you are in compliance with the required, or further requested documents, is essential to safeguarding yourself from facing possible sanctions as well.  By providing organized documentation to your legal representative gives them the ability to review and submit with confidence that you are in compliance with the required disclosure.  These documents are important to your case. In some instances, bank statements, credit card purchases, and income statements can show an experienced family law attorney aspects of your case that will help to make you successful in claims of spousal support, child support, or the distribution of assets and debts. These documents are also helpful when received from the other side in demonstrating what their need for support, ability to pay support, or where funds may be wasted which in turn in also helpful to your case.
In the majority of instances, financial disclosure is an essential tool that your lawyer and the court will use to find the fair and just resolution to your case.  Therefore, compliance on your part, even if your former partner is resistant, is key, as it is difficult for your attorney to argue to compel this information or ask that sanctions be levied on to your former spouse for non-compliance, if you are not already in compliance. The old adage "what's good for the goose is good for the gander" and following the golden rule, is aptly applied in these situations, if you are not in compliance, you can't really hold the other side accountable for something that you are not doing.
In addition, some incomes are tricky to nail down, either due to self employment or cash income, but dealing with an attorney who has experience with complex financial matters will be helpful in proving what your spouse is actually earning and bringing home as income. Financial disclosure between two people getting divorce in the State of Florida ultimately will lead to resolution in your case, and without it, both parties stand to remain in state of unknown, thus compliance and cooperation will benefit your case and ultimately, you moving forward with security.
Wood, Atter & Wolf, P.A. is a law firm based in Jacksonville, Florida. The law firm has served the Jacksonville and North Florida community since 1957. Wood, Atter & Wolf, P.A. is a small law firm with the staff and attorneys in place to get the job done on Florida family law and other matters. Get a free family law book titled Florida Family Law – Enforcing Your Legal Rights and Rebuilding Your Life.   This book has chapters on Divorce, Temporary Needs, Division of Marital Property, Division of Retirement, Alimony, Time Sharing (Custody and Visitation), Parenting Plans, Child Support and Enforcement. You can get this book for free at Florida Family Law Book.