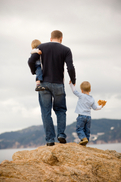 For the first time in U.S. history, women outnumber men in the workplace. This is bound to have some profound implications for what is already a growing trend in child custody cases: fathers being awarded primary physical custody of their children.
Earlier this year, a feature article in Working Mother Magazine noted that there are currently about 2.2 million American women who do not have primary custody of their children. Researchers credit the increase in fathers gaining custody with the growing number of fathers' rights groups, which are educating more men on their parental rights as well as how to successfully petition the court for custody.
The article noted that it is not unusual today to see fathers succeed at least 50 percent of the time when seeking sole custody in a contested child custody case. The report said that in the past decade, the number of fathers who gain custody of their children has doubled as men become more involved in raising their children – not only because of their increased desire to do so, but also because more mothers are in the workplace today than ever before.
In fact, 25 percent of today's married women earn more than their husbands, which has also led to the rise of another trend: more women are paying child support and, in some cases, even alimony.
If you have custody questions in Florida, contact a Jacksonville Family Law Attorney.