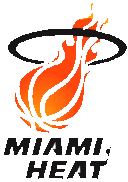 Miami Heat star Dwyane Wade's contentious child custody battle with ex-wife Siohvaughn Wade is making headlines with accusations of child abuse, domestic violence and drug use being hashed out in a Chicago family law courtroom.
Wade is battling his ex for custody of their two sons, ages three and eight. She has accused him of drinking and using drugs, having sex with girlfriends in front of the children, keeping weapons in his home. He has accused her of physically assaulting him and refusing to let him visit his sons.
According to court records, the court appointed attorney for the Wade children has recommended that Dwayne Wade be given full custody of the children, and that his ex-wife should only be allowed visitation if she agrees to undergo "extensive therapy."
The attorney, Lester Barclay, said that he believed the best interest of the children was to live with their father, saying, "He is the parent that could facilitate a loving and ongoing relationship between the children and both of their parents. I just think there's been too much interference with the relationship between dad and the children under mom's watch."
Wade was awarded physical possession of the boys last June because of continual visitation interference by his ex-wife. However, they are still reportedly living with their mother. Wade has missed a number of the Heat's preseason games because of his child custody case in Chicago.