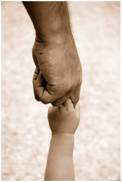 Linda and David Pfeiffer of New London, Connecticut already had an adopted son, Darius, and they were not looking to have another child. But when a family friend from Jacksonville, Florida became pregnant and did not believe she was able to care for the child herself, she asked if the Pfeiffers would raise her child. Linda and David agreed, and they adopted Reylani soon after she was born. As part of the process, they flew to Florida and met with an attorney and had the birth parents sign a termination of parental rights.
It was only two weeks later that Linda Pfeiffer received a text message from the child's birth mother, saying that Reylani's biological father might actually be a different man. That man filed a paternity suit in Jacksonville Circuit Court and had his paternity confirmed with a DNA test. According to Florida law, a father must assert his paternity by filing the Florida Putative Father Registry Claim of Paternity claim before the child is born. Normally, this man would have no case. However, the child's biological father is in the Navy, and he is arguing that he should retain his rights under the Servicemembers Civil Relief Act, which allows service members certain legal protections when they are on active duty. According to the Pfeiffers, the biological father knew that the mother was pregnant and was not at sea during the pregnancy, meaning he had ample opportunity to file for paternity during the legal window. The birth mother and biological father have since married.
In March a judge awarded custody to the biological parents, and the Pfeiffers were required to hand her over to them. The couple has since turned the Pfeiffers away when they flew to Florida in hopes of seeing Reylani. The Pfeiffers have filed an appeal to a panel of three judges, and are awaiting final word on their case. If you have questions regarding your rights as a biological parent or an adoptive parent in Florida you should contact a Florida Family Law Attorney.
You can read more about this tug of war over a Florida infant at Legal twist wrenching family apart.
If you are considering adoption, you will need the help of an experienced family law attorney. Please contact our firm for expert legal counsel.