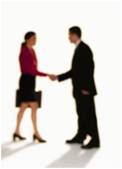 An emerging divorce method, using what is called a "collaborative process," brings legal, financial and mental health professionals together to help encourage cooperation between the divorcing couple. The method is starting to gain momentum as the Florida Bar has drafted legislation to codify collaborative divorces into Florida state law. The Jacksonville Bar Association recently sponsored a seminar on the topic, which drew a large percentage of mental health professionals.
Currently, collaborative divorce is a voluntary process that is entered into when a couple signs a document stating that they will not take their divorce to court. Financial and mental health counseling is included as part of the process. An added benefit is that a collaborative divorce usually costs significantly less than litigation. It also allows families to structure financial details with more fluidity than is usually the case in traditional divorce proceedings. The process not only eases the divorce process for couples and their families, it also eases the case load on family court.
Any divorce method that cuts down on fighting and animosity is good for both the couple and their children. People who are under the stress of a divorce can only benefit from having a team of professionals help them work their way through all the details amicably.
If you are considering divorce, please contact our firm for expert, compassionate legal counsel.
Find out more about this topic at Collaboration allows for a kind divorce.