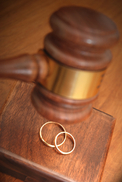 Twenty years after her divorce – and 18 years after her ex-husband's death – a Canadian woman has received a legal settlement for over $250,000 in a lawsuit stemming from her original divorce.
When Julie Ladner was divorced from Vancouver attorney Hugh Ladner in 1990, her ex-husband was ordered by the court to maintain a $400,000 life insurance policy to cover court-ordered spousal support of $2,340 per month for her lifetime. However, Hugh Ladner never obtained the insurance policy, and when he died from drowning in 1992, she was left without alimony.
Julie Ladner later sued her ex-husband's estate for breach of contract, but was unable to recover the full amount because the estate was insolvent by the time she filed suit. She eventually received a $165,000 settlement from the estate.
Ladner then sued the law firm that handled her case, alleging that her attorney was negligent for failing to pursue an alternative trust claim that would have provided her with priority over other creditors for her husband's estate.
A British Columbia Supreme Court Justice found that her divorce attorney was negligent, and she was awarded damages of over $250,000 for her negligence claim.