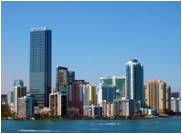 Shaquille O'Neal and his wife Shaunie have reportedly finalized their divorce in a Florida family law court, and it will soon be finalized. Ms. O'Neal is speaking to reporters about the breakup of her marriage, and she doesn't have anything nice to say about Miami, Florida.
According to Ms. O'Neal, the basketball "groupies" in Miami are much worse than those she was used to dealing with in LA. After Shaq got traded to the Miami Heat, Ms. O'Neal says it was hard to deal with the women in the stands, who were scantily clad and trying to meet her husband. She says she now realizes that she and O'Neal didn't "have a strong enough foundation" to withstand the temptation and the alleged incidents of cheating that took place in Florida.
Ms. O'Neal was also accused of cheating on O'Neal with her personal trainer, a charge that she denies. She will be featured in an upcoming VH1 reality TV show that will follow the lives of the wives, girl-friends, and exes of NBA stars. Ms. O'Neal reports that now that the divorce is final, she and her soon to be ex husband are working on becoming friends again.
Read more about why Shaunie O'Neal blames Miami, Florida for her husband's cheating and their recent divorce at Shaq's Soon-To-Be Ex-Wife Blames Miami for Divorce.
If you are involved in a divorce or child custody negotiation, please contact our Jacksonville, Florida divorce law firm.