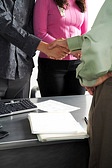 Premarital agreements fall under Fl. Stat. sec. 61.079. Pursuant to this statute, a premarital agreement must be in writing and signed by both parties. It is enforceable without consideration other than the marriage itself. The agreement becomes effective upon the marriage of the parties. The parties to a premarital agreement may contract with respect to:
1. The rights and obligations of each party regarding any property.
2. The right to buy, sell, transfer, abandon, exchange, mortgage, encumber, dispose of, or otherwise manage and control property.
3. The disposition of property upon separation, divorce or death.
4. Establish, modify, waive or eliminate spousal support.
5. Make a will or trust.
6. The choice of law concerning the construction of the agreement; and
7. Any other matter including the parties' personal rights and obligations, not in violation with Florida Law or public policy of the state.
Contact a Florida Family Law Attorney for legal representation in drafting your premarital agreement.