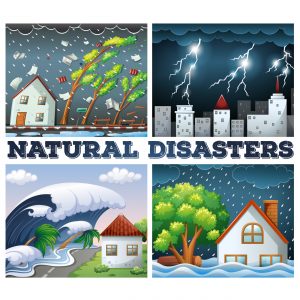 Pounding rains, whipping winds, and treacherous flooding poses threaten the safety of your family, your home, and your daily life. As a hurricane or other natural disaster looms, questions about what to do with about the Florida Family Law Timesharing Plan of your beloved children start to circulate between you and your former spouse. What is a co-parent to do when these issues are not addressed in a parenting plan?
It is highly unlikely that your parenting plan contemplates what to do in case of a natural disaster or emergency situation. When the urgent need for shelter, water, and possible evacuation becomes a reality, courthouses are closed and the aid of the judiciary is extremely limited. First, you should communicate with your former spouse or co-parent, with the consideration of your shared children's safety being the primary concern. Providing accurate location information and contact between the absent parent should be maintained.
Second, consider the obligations of your co-parent and their family. Is he or she a first responder, serviceperson, or will he or she be called into work? Does the co-parent have the care of vulnerable person, such as an elderly family member or infant/small child? Finally, where does the c0-parent live? Will he or she need to evacuate based on their evacuation zone or do they have special needs?   When creating a emergency plan for your shared children, it's important to realize that your children will be worried about the parent that cannot be with them, but also for their own safety, so taking the steps early to make a plan is key.
Third, keep the gates of information open. Discuss school closures, health information, emergency contacts, and if you receive an update or change in information, relate that to your co-parent. When disaster strikes, not everyone has the same access to information so being a conduit for personalized information for your child builds trust and alleviates an already stressful situation.
Some "plan ahead co-parents" are smart to consider that if you live in an area that routinely faces hurricanes, tornadoes, or other life emergencies, make plans when conditions are calm about how things should be done. Even if the plan doesn't go exactly how it was envisioned at the time, you at least have a guide or an effort to keep everyone safe. Using smartphone apps, such as social media, or other forms of relaying information that are best for your family to mark your family safe will also work in case of cell phone service loss. Anything you can do to proactive and a beacon of peace in restless, urgent times will be a great model for your children and in most cases, work to ameliorate any stress.
Finally, remember that acting with your children's best interests are the central focus are the key to everyone feeling as secure in uncertain times as possible. Demonstrating that working together as a team for the safety of your kids is best. Conferring with your co-parent should be at the top of your emergency preparedness list.
Wood, Atter & Wolf, P.A. is a law firm based in Jacksonville, Florida which handles family law matters throughout North Florida including Nassau, Clay, Duval, Baker, and St. Johns County.  Since 1957, the attorneys and staff at Wood, Atter & Wolf, P.A. have been On Your Side – At Your Side.