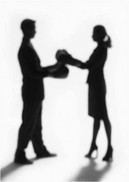 Ikos, one of Europe's oldest hedge funds, is at the center of a nasty divorce battle between its husband-and-wife founders, who started the company with $10,000 in 1992 and built it into a $3.4 billion financial powerhouse.
Martin Coward and Elena Ambrosiadou recently split over his affair with a 23-year-old Brazilian woman. Coward, who holds a Ph.D in math, developed Ikos' quant trading operation, where computers – not humans — choose trades. Greek native Ambrosiadou, formerly Britain's highest paid female at $18 million annually, met Coward at Cambridge where she was a chemical engineering student. She went from there to BP, where she was the oil giant's youngest international executive at age 27.
The high-stakes divorce turned particularly nasty when Ambrosiadou fired Coward's team of researchers at Ikos, causing many investors to pull their funds in alarm and reducing Ikos' fund to $1.35 billion. She also had police seize her husband's jet while he was on vacation at a Greek island resort; he has since ordered his own $2 million jet and she has ordered her own nine-passenger private plane as well as a $120 million private yacht that she plans to use a few weeks a year.
Coward has left Ikos to start his own firm, leaving Ambrosiadou in control. She has attracted new investors to the fund, which now stands at $1.95 billion, according to her attorneys.
Dividing assets, including business interests, in a Florida Divorce can be complicated. Contact a Jacksonville Family Law Attorney to help you understand your rights.