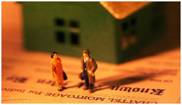 In Florida, spouses have several options to choose from when it comes to obtaining a divorce. Those options include mediation, trial and a fairly new practice known as collaborative divorce.
In a Florida collaborative divorce, each spouse has his or her own attorney who helps to negotiate an acceptable settlement agreement. Each spouse first meets with their own collaborative divorce attorney, who will provide advice and assistance in reaching a negotiated settlement. Then, the couple comes together with their respective attorneys in a series of meetings to arrive at a mutually agreeable decision on every aspect of the divorce settlement, including property division, debt settlement, child support, child custody, spousal support, and so on.
There may also be other professionals involved in a collaborative divorce, including accountants, estate planners or child therapists. The goal of collaborative divorce is to settle a case without litigation.
Collaborative divorce is also a useful tool for saving time and money. Even if you and your spouse do not agree on every issue, you can still use a Florida collaborative divorce as a tool to negotiate a compromise without having to go to court to have a judge decide the issue for you.