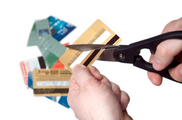 One of the major reasons couples divorce is money, and it is usually because one spouse has better spending and saving habits than the other. If you want to protect your credit during a divorce, here are some tips:
Check your credit scores. As soon as possible, pull individual credit reports on both you and your spouse from Experian, Equifax or Transunion. Check to see if there are any debts you are unaware of or that have been neglected.
Close joint accounts. Do this prior to divorce proceedings, especially if you think a vindictive spouse may incur more debt in order to punish you. You are both responsible for joint account debts until the divorce is final.
Open individual accounts. Turn existing joint accounts into individual accounts so you will not have to re-establish your credit following a divorce.
Communicate with creditors. Let creditors know that a divorce is pending, and advise them in a timely fashion about any address change. If possible, include the settlement of joint debts in your divorce agreement so you can have a fresh start.
Pay bills on time. Do not skip a payment because you believe your soon-to-be ex is responsible for it. It will go on your credit report and adversely affect your rating.