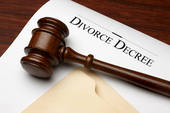 Under Florida Statute § 61.052(1)(b) a dissolution of marriage will not be granted from a party who is mentally incapacitated, unless the party alleged to be incapacitated has been deemed incapacitated for a preceding period of 3 years. The provisions to adjudge a person incapacitated falls under Fla. Stat. § 744.331.
If a spouse has been proper adjudged incapacitated in accordance with the provisions of § 744.331, the party filing for divorce must fulfill the following requirements:
1. Notice of the dissolution must be served to one of the nearest blood relatives of guardian of the incapacitated party. The relative of the incapacitated party shall be entitled to be appear and be heard on the dissolution issues.
2. If the incapacitated party has a general guardian, who is not the person bringing the proceeding, the incapacitated party and the general guardian shall be served with the petition and the summons; the guardian shall defend and protect the interests of the incapacitated party.
3. In the event the incapacitated party has no guardian other than the party bringing the divorce proceeding, a guardian ad litem shall be appointed by the court to defend and protect the interests of the incapacitated party.
It is important to note that in all divorce proceedings granted on the basis of incapacity, the court may require the petitioner – the party who filed the divorce petition – to pay alimony. If you want to file for divorce from a spouse who is mentally incapacitated, contact a Florida Divorce Attorney for legal representation.