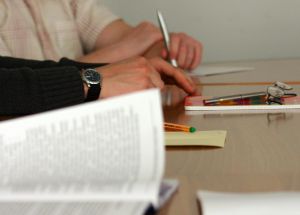 Florida paternity and divorce cases involving children require child support to be calculated. Child support is based on the income of both parties and in order to establish that the Court does not simply accept testimony. So, how do parties actually provide proof of their individual incomes?
Florida divorces are ruled by Florida Family Law Rules of Procedure, which requires that both parties file a financial affidavit. A financial affidavit details the monthly expenses of the individuals including their income and expenses. In addition to personal expenses, the financial affidavit requires the children's expenses be calculated as well. That way the court knows which parent is paying for childcare and the child's health insurance, which all goes into the child support calculation. Since it is an affidavit, the parties must sign and have the affidavit notarized.
In addition to the financial affidavit, the parties are required to provide documentation outlined in Mandatory Disclosure, also detailed in the Florida Rules of Family Procedure. Some of the documents required are the following:
a) At least three (3) months of bank statements for all accounts held individually and jointly. Joint accounts are any accounts with the party's name on them, including those held for elderly family members.
b) At least three (3) months of paycheck stubs. If you are paid hourly and work overtime, it is a good idea to provide as many months as possible.
c) Any and all loan applications filled out by the individual or done as a cosigner. This documentation often has questions related to your income and allows the Court to see what type of loans you may have outstanding.
All of these items help establish the actual income of each party and what the children's needs are. Child support is based on the combined income of the parties and what each individual's percentage of contribution is to that combined amount.
Before filing a divorce or paternity action with the court, you should speak with a family law attorney to assist you and to help make certain that you meet all requirements with the Court.