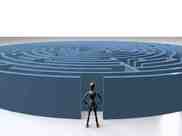 A recent Reuters article focused on the use of financial advisers by divorce attorneys to help their clients discover hidden assets through the analysis of financial information.
Lili Vasileff, president of the Association of Divorce Financial Planners, gave the following tips for finding hidden assets:
Tax returns – examine the interest income schedules to ensure that all the accounts listed there are also listed on the net worth statement that divorcing spouses must fill out listing all their assets. You should also compare mortgage interest and real estate taxes listed on the return with the real estate listed on the net worth statement.
Loan applications – check loan and credit card applications to compare the assets listed.
Bank and brokerage accounts – check these for any large transfers or withdrawals, and track where the money went. If it went to a family member or close friend, it may be an attempt to hide cash.
W-2 – examine annual W-2 forms from previous years to be sure that a bonus is not being withheld for the asset calculation.
Business – if a spouse owns a business, it can make it easier to hide assets. Expenses can be inflated to reduce income. Investments in things like art can be written off as a business expense to reduce the income available to split.
Advisers are also cautioned to be wary if they uncover "hidden" assets too easily. One divorce attorney noted, "The best way to hide $1 million well is to hide a quarter of a million dollars badly."