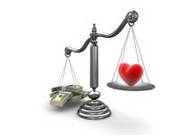 An article at the Huffington Post by Visa senior director Jason Alderman, who heads up that company's financial literacy initiative, provides some good advice on dealing with the financial challenges of divorce.
With Florida's current economy, the financial challenges of divorce are many, including dealing with unemployment, underwater mortgages, investment accounts that have lost value and affordable health insurance. He offers the following tips to help divorcing couples in Florida:
Seek out good advice. Getting a Florida divorce with a do-it-yourself kit is not a good idea, even if your assets are few. Hiring an attorney that specializes in divorce can help you avoid problems down the road. You should also consider speaking with a financial planner for advice on how to divide property and assets so you can both afford to set up separate households.
Keep an eye on your credit. Close joint credit card accounts and open up new ones in your own name. This is especially important if one spouse is careless with money or if the divorce is acrimonious and there's a chance one spouse may run up credit card bills to ruin the other spouse's credit. Check your credit reports before, during and after the divorce to be sure you know about all outstanding debts and to ensure the reports accurately reflect the debt that you are responsible for after the divorce.