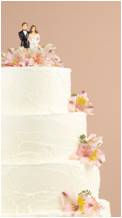 After almost four years of marriage, Jana and Chris Rawlinson split up in April of 2009 and filed for divorce. Ms. Rawlinson is a gold medal winning hurdler, having won the 400m hurdles at the 2006 Melbourne Commonwealth Games. The couple have a three year old son, Cornelis.
But last month Ms. Rawlinson revealed in an interview with Woman's Day magazine that she and her husband have reconciled. She said that after she learned that her soon to be ex-husband was seeing another woman, she begged him to give her a second chance. She said that seeing him with another woman made her realize that she may have lost her husband forever and that she did not want to lose him. After six weeks of pleading, Rawlinson finally decided to give his wife a second chance. They are now planning to remarry, but must wait until their divorce becomes final in early 2010.
Sometimes couples rush to divorce without making an attempt to save the marriage. In some cases, counselling and a trial separation can be the key to partners appreciating each other and rekindling the relationship. If you are considering divorce, please contact our firm for expert, compassionate legal counsel.
Find out more about the divorce and remarriage of the Rawlinsons at Jana Rawlinson and husband Chris will remarry when their divorce is finalised.